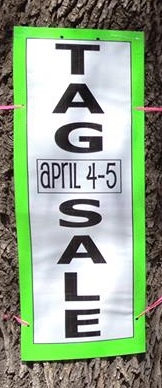 Preparations for our 9th Annual Spring Cleaning Tag Sale are well underway. Signs are out front, ads are in the paper and on Craigslist, the Great Hall and cloister room are filling up—all looking forward to Friday at 6, when our Sneak Preview sale begins. A few things to keep in mind:
It's not too late to donate goods to the sale. Clothes, books, furnitures, housewares—anything you would take to Goodwill can come to us first, and if it isn't sold by Saturday we'll give it to Goodwill for you! Bring them to the Eagle Street door Wednesday (Apr 2) from 4-7pm or Thursday (Apr 3) 10am-2pm or 4-7pm. We'll help you unload!

We could still use volunteers to help with the sale itself.

We have 3 sale shifts: Friday 5:30-8, Saturday 7:30-10:15am, and Saturday 10am-noon. Click

HERE

to access our current volunteer roster and contact info for volunteering. It's fun. Plus, if you volunteer Friday night, you get to preview the goods without having to pay the $5 admission.)
Don't forget to come shop the sale Friday from 6-8 ($5 admission) and Saturday from 8-noon (free). There are some fantastic bargains.

Remember why we're doing this—and pray for a good sale.

Every penny we clear goes to support the Salvation Army summer food pantry. Families with children who receive subsidized breakfast and lunch during the school year often find themselves running short of food in the summer months when kids are home. We try to help make up the difference in the spirit of the One who said "Whenever you did one of these things to someone overlooked or ignored, that was me—you did it to me" (Matthew 25: 41, The Message translation).