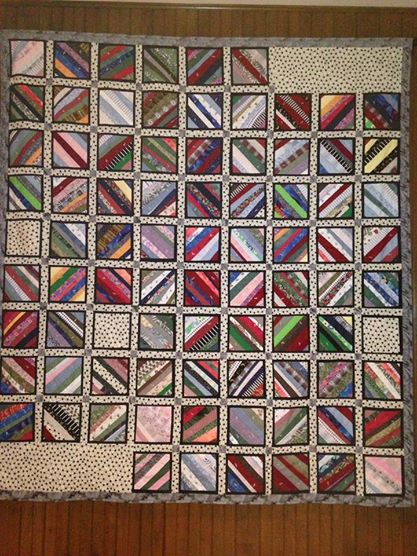 This quilt is now brightening a previously dark corner in our cloister room—a visible representation of our parish life and a reminder of the interim ministry of Mary Slenski, who is an avid quilter.
Work on the quilt began at parish meeting in February with pans of fabric strips on the tables. Parishioners picked what they liked and placed groups of strips into individual bags—each bag representing one square and one individual or family.
Groups met to assemble the squares through the winter and spring. Rev. Mary assembled the quilt and did some machine quilting. Then the piece went back back to parish for hand tying—each tie accomplished with a prayer for the parish. The finished quilt is 8′ x9′. All the fabric, including the backing, came from the Sew 'n' Sews' stash.
(For quilters: 8″ blocks were string pieced to muslin, framed, and set in a straight set with sashing and cornerstones. Plain single border.)