Click here for a printable PDF version of this schedule.
Palm Sunday—Sunday, March 29, 8am and 10am
"All glory, laud, and honor . . ." Meet in the garden to pick up palm branches and share in a brief liturgy, followed by a festive procession into the church.
Morning Prayer—Monday, Tuesday, and Wednesday, March 30-April 1, 8am in the chapel
Holy Week doesn't jump abruptly from Palm Sunday to Maundy Thursday. Start your days off for a brief and intimate service of prayer and praise. Scripture readings will follow the events of Jesus' last week on earth as related in the book of Mark.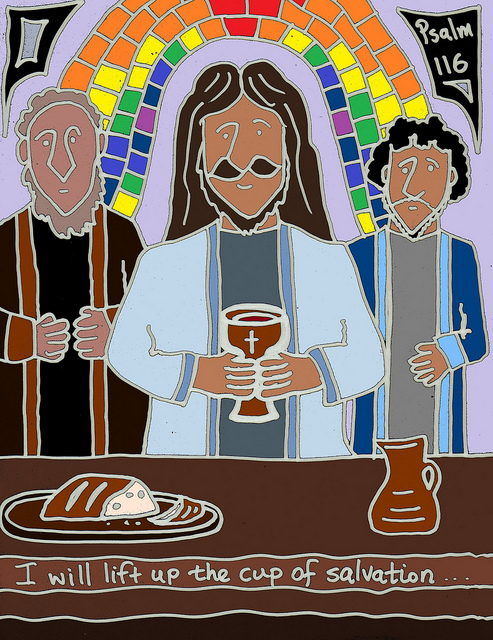 Maundy Thursday observance—Thursday, April 2, 7pm in the church
This communion service, which commemorates Jesus' last supper with his disciples, also celebrates servanthood and sacrifice, pointing us toward Good Friday. Service will include (optional) foot washing and conclude with stripping the altar.
Good Friday service—Friday, April 3, noon in the chapel
This brief, somber service will include a dramatic reading of the passion narrative in Mark's gospel.
Stations of the Cross—Friday, April 3, 2:15 in the garden (chapel if it's raining)
An opportunity for quiet meditation of the meaning of Christ's sacrifice.
 Great Vigil of Easter—Saturday, April 4, 8pm in the garden
For many of us, this nighttime service is the best of the year. Gather in the garden for the lighting of the Paschal (Easter) candle and procession into the darkened church, an ancient hymn called the Exultet, readings and songs that trace God's redemption purpose during history, a baptism, then a joyous, bell-ringing celebration of the resurrection. Bring a bell if you have one!

Feast of the Resurrection—Sunday, April 5, 8am and 10am
Episcopalians like to think that we're "Easter people" and our Easter celebrations show it. Bring your bell again if you want for the 10 am service—we'll be ringing them again.
Champagne breakfast— Sunday, April 5, between services
Enjoy our traditional egg casserole, pastries, fruit, coffee and juice and a little celebratory champagne. Everyone is welcome. Donations are appreciated but not required—proceeds will go to outreach.
Grand Easter Egg Hunt for Kids—Sunday, April 5, after the 10am service
Bring your own basket and meet in the cloister room!
St. Stephen's 175th Anniversary Service—Sunday, April 12, 8am and 10am.
St. Stephen's is celebrating a big birthday on the 2nd Sunday of Easter. Our Bishop Cate will be visit, and we'll enjoy an expanded coffee hour with Q&A.
Parish Carry-In Dinner—Wednesday , April 15, 5:30 pm
The actual anniversary date for our parish is St. Stephen's is April 15. Bring a covered dish for a parish celebration, followed by some fun and then compline together. Everybody welcome.
Art by Stushie and used by permission. For more information, please see www.stushieart.com.