(Music for Lent)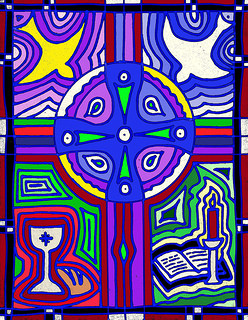 Click on the title to access source.
Echoes from Calvary: Meditations on Franz Joseph Haydn's The Seven Last Words of Christ by Richard Young and others (Rowman & Littlefield Publishers 2005). In 1786 Haydn wrote what he considered to be his greatest composition, "The Seven Last Words of Christ." Today it continues to provide musical and spiritual nourishment through this intriguing book-and-CD combo, the brainchild of violinist Richard Young. The CD features the Vermeer String quartet and Haydn's music, along with spoken meditations keyed to the music's theme. The book offers many more meditations and in-depth essays by Martin Luther King, Jr., Martin Marty, Peter Gomes, Andrew Greeley, Vermeer's Richard Young, and many more.
Lent at Ephesus, byy Benedictines of Mary, Queen of Apostle. Beautiful acapella vocal music by Benedictine nuns provide a prayerful background to Lenten prayer and meditation. Includes a digital booklet. Album available as audio CD or in mp3 form. If you download the entire mp3 album (using the link above or from Amazon.com), you will also receive a digital booklet with translations, etc.
Misere Mei Deus, by Josquin des Prez. This twenty-minute motet by "the greatest composer of the high Renaissance" is based on the Latin text "Have mercy on me, O God" (Psalm 51). Its intricate and meditative nature makes it a perfect springboard for meditation and reflection on the text. Many versions are available on CD. Click on the link to hear a gorgeous version by the Hilliard Ensemble. Click here for both the original Latin words and a good English translation.
Forty Hymns for 40 Days. A interesting collection of YouTube videos, one for each day of the Lenten season. Compiled by a Roman Catholic music lover, some will be familiar to Episcopalians, some not.
Contemporary Music for Lent, from soulpainter.com. A Christian artist compiled this list of more contemporary Lent-themed songs. Several of the imbedded players on this blog don't work, but you can Google the individual songs or make use of the excellent Spotify playlist.
Ein Deutsches Requiem (A German Requiem), by Johannes Brahms. First performed on Good Friday, 1868, this masterful and moving choral/orchestral piece is notable for using Scripture in Martin Luther's German translation in Brahms's native German instead of the traditional Latin requiem mass. The themes of human mortality, mourning, and longing for comfort make it ideal for Lenten meditation. (Brahms actually wanted to call it "A Human Requiem" rather than "A German Requiem.") The link above connects with a full-length performance on YouTube, but CDs are widely available. Click here for both the original German text and an English translation.