(Devotional Resources, E-mail Subscriptions, Video Courses, and Ideas for Observing the Season)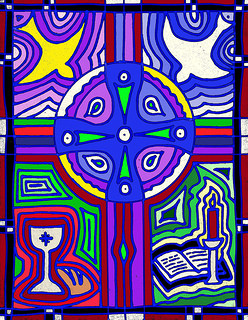 Click on the title to access source.
Lent Madness. Based loosely on the NCAA basketball tournament, this upbeat and slightly off-beat series pits saints against one another in a single-elimination bracket as voters choose their favorites throughout Lent. With its unique blend of competition, learning, and humor, Lent Madness is really about being inspired by the ways God was worked through the lives of saintly souls across the generations. Starts Ash Wednesday.
d365 Daily Devotions. Though prepared especially for teens and college students, the clean interface and thoughtful meditations on this site are appealing to adults as well. There are devotions for throughout the year, but special emphasis is on Advent and Lent (Journey to the Cross.) Each daily offering features scripture, prayer, meditative thoughts, and (optional) music. Click on the link at the top of the home page to subscribe. Ecumenically sponsored by Passport, Inc. (Episcopal, Presbyterian, and Cooperative Baptist).
Go! for Lent. Daily reflections on a Scripture verse containing the word go. Prepared by many authors, including Presiding Bishop Michael Curry.
Walk the Path of Lent. This year's Episcopal Relief & Development's 2016 Lenten meditations series features reflections on spiritual practices that give us strength for our life and faith journey. Digital versions of the booklets are available on the website, where you can also sign up for daily email meditations.
Listen for a Change: Sacred Conversations for Racial Justice. A complete Lenten curriculum offered free for Lent! Based on the Trinity Institute conference of the same name, this curriculum includes 5 video courses, including one taught by our new bishop, Michael Curry. All five courses will be available in two formats—for individuals and for groups.
The Beloved Community and Racial Reconciliation. A Lenten series of blogs from the Episcopal Public Policy Network—available beginning Ash Wednesday.
Growing a Rule of Life. The brothers of the Society of St. John Evangelist offer this series of daily videos and reflections, which uses a tool from monastic spirituality called a "rule of life" to explore and cultivate our relationships with God, self, others, and creation. Email subscriptions are available and a corresponding workbook can be purchased or downloaded from the website.
Earth As Original Monastery: Retrieving our Lost Intimacy with Creation. This 8-week "online retreat" offers weekly reflections on the theme of reconnecting with creation, featuring songs and video invitations to contemplation and exploration, plus a private online forum. Drawing on contemplative practice and awareness, each day develops a theme connected to the overall theme, and your inner monk and artist will be invited to encounter nature as both sage and muse.
Repairing the Breach: Discipleship and Mission in a Global Economy. The Episcopal House of Bishops, in partnership with Forward Movement, has compiled this program of daily meditations and videos focused on economic injustice and our role in it—both the ways we contribute and the ways we can help. Register for daily meditations—or download a PDF of the reflections from http://www.forwardmovement.org/Products/2417/repairing-the-breach.aspx.