(Books and Devotionals)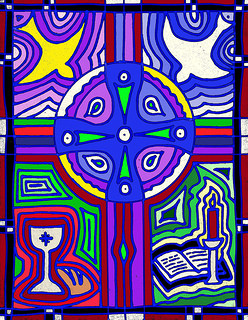 Click on the title to access source.
Eastertide: Prayers for Lent through Easter, by Phyllis Tickle
Refreshingly contemporary yet grounded in one of the oldest forms of Western prayer—the sixth-century Benedictine Rule—this book provides an insightful program of fixed-hour prayers plus psalms, Scripture readings, and hymns to take you through the Lenten season. (Galilee Trade, 2004)
Small Surrenders: A Lenten Journey, by Emilie Griffin
Short, simple reflections encourage us to move beyond the surface question, "What are you giving up for Lent" to embrace smaller but deeper forms of surrender. This is "a series of large and small conversions, inner revolutions, that lead to our transformation in Christ." (Paraclete, 2009)
The Way of the Heart, by Henri Nouwen
Inspired by the ancient teachings of the Desert Fathers, this book clears a spiritual path consisting of three stepping stones: Solitude (learning to be alone with God); Silence (the discipline by which the inner fire of God is tended and kept alive); and Prayer (standing in the presence of God with the mind in the heart). Nouwen's illumination of each of these disciplines helps us reconnect with what truly matters. (Ballantine, reprint edition 2003)
Bread and Wine: Readings for Easter
The readings in this book (not a daily devotional) are ecumenical in scope and represent the best classic and contemporary writers–including C. S. Lewis, Brennan Manning, Dorothy Day, Henri Nouwen, and many more. This is not a daily devotional. Readings are grouped thematically around themes of temptation, passion, crucifixion, resurrection, and new life. (Plough Publishing House, 2003)
A Journey into Wholeness: Soul Travel from Lent to Easter, compiled by Christine Sine, Kristin Carroccino, and Ricci Kilmer
With its focus on social justice, sustainability, and simple living as an expression of faith, this guide features daily reflections and weekly challenges that dare readers to creatively engage the communities in which they live. (Mustard Seed Associates, 2014)
 The Mystery of the Cross: Bringing Ancient Christian Images to Life, by Judith Couchman
If you love art and history, this unusual devotional is for you. It focuses forty early images of the cross and their connection to the early church and mystery of faith. Enriched with original illustrations, The Mystery of the Cross will enrich your understanding of Christian tradition and draw you into Christ's presence. (InterVarsity, 2009)
40 Days of Decrease: A Different Kind of Hunger. A Different Kind of Fast, by Alicia Britt Chole
A original approach to the ancient practice of fasting. Each daily meditation offers a meaningful consideration of Jesus' journey to the cross and then issues a challenging daily fast. Instead of abstaining social media, chocolate, or designer coffee, this book calls believers to a Lenten fasting of apathy, injustice, resentment, hypocrisy, and more for the love of God. Decrease is only holy when its destination is love. We thin our lives to thicken our communion with God. (Thomas Nelson, 2016)
The Last Week: What the Gospels Really Teach About Jesus' Final Days in Jerusalem, by Marcus Borg and John Dominic Crossan
Using the gospel of Mark as their source, these authors present a day-by-day account of the events leading to the crucifixion. You may be surprised by the Jesus presented here if you compare him to some of the traditions the church has often preserved and celebrated. (HarperOne, 2007)
Lent for Everyone: Luke, Year C, by N.T. Wright
Provides readers with a gentle guide through the Lenten season. Well-known biblical scholar and author N. T. Wright provides his own Scripture translation, brief reflection, and a prayer for each of the days of the season. By the end of the book readers will have been through the entirety of Luke along with Psalm readings for each Sunday. (Westminster John Knox Press, 2012)
Reliving the Passion: Meditations on the Suffering, Death, and Resurrection of Jesus as Recorded in Mark, by Walter Wangerin Jr.
These readings provide an imaginary reenactment of the events of Holy Week. In vivid images and richly personal detail, maser storyteller Wangerin helps us experience the bewilderment, the challenge, and the ultimate revelation of knowing the man called Jesus. (Zondervan, 2010)
The Awkward Season: Prayers for Lent, by Pamela C. Hawkins
The managing editor of Weavings magazine offers Christian pilgrims a prayer path to follow through Lent. For each day of the week, prayers of invocation, confession, intercession, and thanksgiving are shaped around a theme prompted by the psalm for the day. (Upper Room, 2009)
Lent Is Not Rocket Science: An Exploration of God, Creation, and the Cosmos, by W. Nicholas Knisely
The Bishop of Rhode Island, a former professor of astronomy and physics, provides daily meditations that take you on a "journey from the largest scale of the created order inward to the very smallest . . . learning about science, but much more about the complex beauty of God's creation, the truth and mystery of God's infinite love." (Forward Movement, 2016—order the book from forwardmovement.org or the Kindle version at Amazon.com)
Quarantine, by Jim Crace
A historical novel about Jesus' time in the desert. In Crace's account, Jesus crosses paths with a small group of exiles who are on a pilgrimage to find redemption. Evoking the strangeness and beauty of the desert landscape, Crace provocatively interprets one of our most important stories. "I loved the style and I have often recalled the power of the prose: I could taste the grit of sand in my teeth as I read it." (Picador, 1999)