For well over a hundred years there's been a "church row" on North Seventh Street across from Indiana State University: St. Stephen's, Centenary United Methodist, and Central Presbyterian. In more recent years, United Campus Ministries has taken its place beside us. On Sunday August 25, for the first time in recent history, we all joined together for a historic celebration we've called Holypalooza.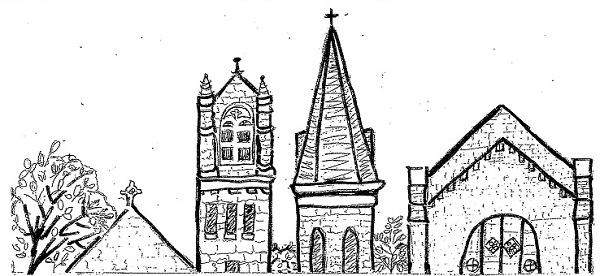 We began by gathering at 7th and Cherry Streets and processing together up 7th to the lively music of a bagpipe, arriving at Centenary for a joint worship service combining Presbyterian, Episcopal, and Methodist traditions. Music was provided by Crossroads Brass, Centenary organist Bill Cain, a combined choir of musicians from all three churches, and the happy voices of three congregations. The Rev. Joni Clark of United Campus Ministries gave a lively sermon, complete with raised arms and a shout of "Hallelujuah." Then Rev. Mary led a memorable Eucharist that featured bread, wine from metal chalice, grape juice in earthenware chalices, and grape juice in trays of individual glasses. Truly a celebration of unity in diversity!

After the service everyone proceeded next door to the St. Stephen's Great Hall for a huge, old-fashioned church potluck, then on "Palooza Plaza" next to Central Pres for a street fair featuring games for children and information tables about the three churches and other ministries. All three church buildings and United Campus Ministries opened for tours.
All in all, a Sunday not to be missed!